I just wanted to write a quick review of these, since they do differ a little from the previous Brooklyns it appears
Boots here:
http://www.vivobarefoot.com/us/ladies/vienna-ladies-1.html
I picked them up during the Halloween sale, so they were only $156 (reg $190) including shipping, AND since Hurricane Sandy meant they were delayed a bit, when I contacted them to follow up almost two weeks later, they shipped them out with air/one day service to Canada. I am very happy with their customer service.
Physical Details
The leather appears and feels to be thick and very nice quality (even passed my husband's approval, who is a bit boot obsessed and very, very picky about leathers). It feels sturdy and has nice colour (I got the brown boots). It was a little more rigid when I first opened the box but after wearing them around a bit it is softening up nicely.
The interior is a quilted thinsulate (rather than the synthetic shearling the old Brooklyns had). I tried to get a good pic of this. This thinsulate goes all through the boot.
The sole is VB's beige-brown with a black trim.
They have the usual removeable insole. The interior sole without the insole feels pretty smooth to me both when I touched it with my hand and under my foot.
There is a zipper on the interior side of the boot (it does not go all the way up as you can see in the picts) to give those who need it some room to slide the boot on. I find I don't really need this as I have pretty thin calves and ankles and just slip them on and off without having to undo the zipper.
The logo is very unobtrusive - it is up on the top/side of the boot and is just an imprinted leather.
These definitely are a "plain Jane" looking boot, but I really like this about them. They are unobstrusive so perfect to slip on under or over pants or whatever.
Feel and Fit
I prefer to wear them without the insoles for more ground feel, though the insoles aren't too obtrusive if I need more protection from really cold ground. I find I have plenty of room for wiggling my toes and feet around - without the insoles they actually fit pretty loose on my foot and the insoles snug them up a bit. I wear a 38/39 in VFFs/7U in Soft Stars and find the 39 fits me great. They do feel a little narrower with insoles (and I do have fairly narrow feet) but as soon as I remove those I have tons more width.
Despite all my running and weight training, my calves are only about 13" and I have thin ankles so I find I have LOTS AND LOTS of room in the upper leg. I am kind of used to this with pretty much any knee high boot I have ever had or tried though so this is not a dealbreaker for me and I can easily wear over my pants and since they are so high up I am not worried about snow falling in them or anything! My husband said they looked a bit like swashbuckling boots on me (he meant this positively, ha ha). If you have bigger calves, you should have no problem wearing these!
The sole is think and I get good ground feel without the insole, but they still aren't like VFF's (or even Soft Stars) for sole flexibility or feel. However, I am very happy with it for the purposes I am wearing it and for the conditions I am wearing it in!
Overall
These are my first Vivobarefoots and I am satisfied with them. They are a very high quality full-leather boot in my opinion for the price. The brown is a great neutral brown (they also offer them in black, but I am just more into the colour brown for casual shoes). I have lots of room for toe splay and wiggling, especially without the insole (it seems without the insole the sole "flattens" out more as I walk, too. And believe me, toe splay and wiggle room is something that is very, very important to me. I also expect the leather will soften up even more with wear.
I plan to wear these strictly as a casual boot for going to and from work/court and so on, especially on deep snow days since they protect my legs/pants. I really wanted a high and waterproof (or waterproofable) boot for this purpose. I think they are perfect for snow and cooler to cold temps (especially with a warm sock and insoles) and when you are running between places, but I would not wear these if I was going to just be standing around or spending a lot of time in our -25 or -30 C temps and I won't be wearing them for snowshoeing or anything!
Now for pics (sorry, all iPhone pics so not the best, I was too lazy to find the camera and upload pics)
Here you can see the outside and inside profile of the boot...notice the unobtrusive logo: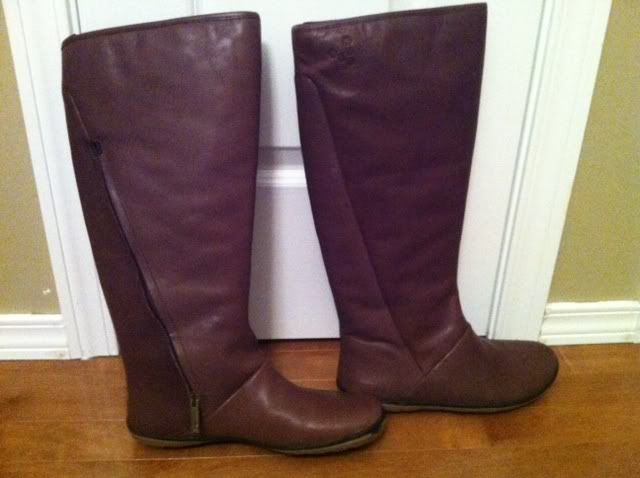 Showing the sole/trim: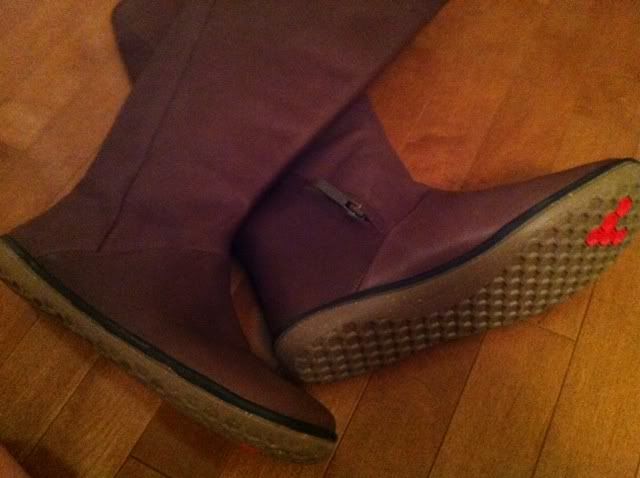 The Thinsulate lining:
Wearing, from weird side angle (notice the gap for me):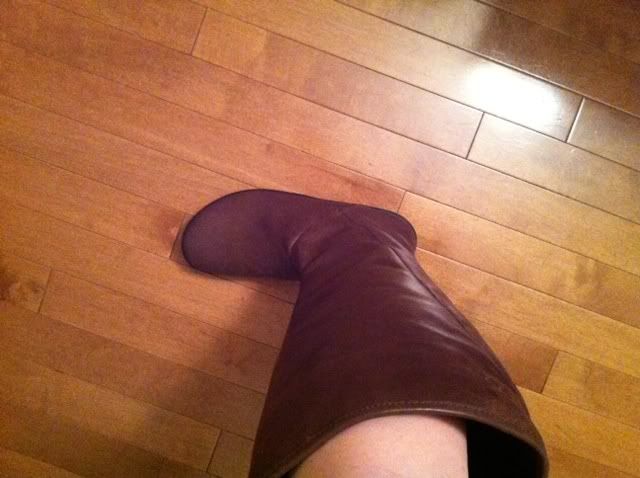 Both on!:
Sorry to subject you to a picture of my foot (it looks a bit red as I had just got out of a very hot shower!). And yes, I have some weird veins: